RR Days @ BRNO
10-11 May 2017
Organised by EYBIS & IV RACING
Supported by:
BMW Motorrad Austria

BMW Motorrad Central and Southeastern Europe
Catering, Pictures and FREE S 1000 RR test rides are included in the price of this event!
This event is meant for participants from Austria, Bulgaria, Czech Republic, Hungary, Poland, Romania, Slovakia and Slovenia.
Open for all motorcycle brands!
After market exhausts with dB-killers authorised
(max. 104 dB)
Do you have several questions? Don't hesitate to phone us on + 32 476 691 091.
Included
2 hours of free riding per day per group
Insurance TPL (= Third Party Liability)
Possibility to test the new model 2017 BMW S 1000 RR on track, for FREE (more info further on this page)
Free overnight stay in the paddock (electricity, water and showers are available)
Tire and photo service
Catering: breakfast, lunch and BBQ in the evening
Security:

Access control to the paddock

the paddock access will be guarded 24/24

Circuit

official certified marshalls with radio connection
security vehicle
video control of the whole track

Medical

medical centre
2 doctors
3 manned ambulances

Experienced organization
Possibility to test the 2017 BMW S 1000 RR
In the FREE booking possibility of a test ride are included:
an insurance (your maximum cost in case of a crash = 2.000 €)
tire wear
fuel for 1 session of 20' (in your own group instead of with your own motorcycle)
When you book this event @ BRNO, you can - optionally - book a test ride with the new BMW S 1000 RR.
Keep your credit card ready, because part of the "test ride booking procedure" is the "authorisation" of 2.000 € on your credit card.
This is the maximum amount that you can lose in case of havy crash (which we don't wish!).
During the morning briefing @ the event, we 'll ask you to show us your:
To be brought by you
Motorcycle that is technically 100% fit.
dB-killer: only standard exhausts, and after market exhausts WITH dB-killers are authorised!
Adapted motorcycle outfit, meaning obliged for everyone : leather suit (One-Piece recommended, Two-Pieces authorised), back protector (!), motorcycle boots, motorcycle gloves, fullface helmet
ID-card
For a BMW test ride, you also have to bring your drivers licence and your credit card (for the caution)
Filled in and signed waiver of liability
Good temper, discipline, good-fellowship, well-trained body and clear mind
Circuit of BRNO
Address
Automotodrom Brno, a.s.
Masarykuv okruh 201
664 81 Ostrovacice
CZECH REPUBLIC
GPS
Most of the GPS indicate the track as "Automotodrom".
GPS: N 49° 12,569 - E 016° 27,166 (click on these gps-coordinates and zoom-in for a satellite photo).
Website
http://www.automotodrombrno.cz/en
Routeplanner
From the romantic city of Prague, situated at 900 km from Brussels, you still have 200 km to go.
You can find a predefined Routeplanner to the circuit on our "Tracks"-page (click on the red marker of the circuit, and on the pop-up that appears, click on "To here").
After you passed Prague, take the D1 motorway "Prague - Brno", exit 178.
Access to the paddock
You can enter the paddock the evening before from 20.00 on (absolutely not earlier!)
Plan
Click on the map below for a bigger version of it.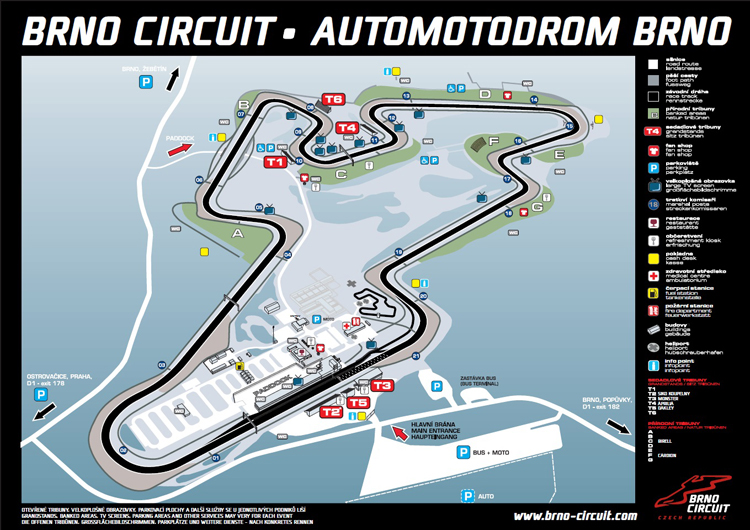 Paddock
Pitboxes
There are 27 pitboxes of 6 x 14 m available. Every pitbox has a bathroom and connections for electricity (220 and 380 V) and water. Don't forget to bring blue EURO plugs with you (available in camping and DIY shops).

Bookable on the spot @ the EYBIS INFO POINT (probably box 27).

Price for 2 days = 380 € + 120 € caution = 500 € to pay in cash

If you leave your box already after 1 day, and you bring the key back, 190 € + 120 € caution = 310 € will be paid back to you (after we have verified together your box (clean, nothing broken, etc.)

If you leave your box after the second day, and you bring the key back, 120 € caution will be paid back to you (after we have verified together your box (clean, nothing broken, etc.)
Electricity
In the paddock and the pitboxen of BRNO, there are only 3-poles (blue) EURO "camping"-plugs usable (= of thet type "16 AMP bipolar").
Don't forget to bring them along.
Water connexion
Available in the pitboxes and in the entire paddock
Showers
In the center of the paddock, there is a building with showers.
Toilets
There is a toilet in every pitbox
In the center of the paddock, there are also toilets in the shower building.
Prohibitions
no drilling or knocking of holes in the ground (to fix your tent f.ex.)
no smoking in the boxes, in the pitlane and along the circuit
no unattended children in the pitlane
no animals allowed on the entire domain of the circuit
no "burn-outs", "wheelies" or "stoppies", on penalty of fine (imposed by the circuit) of 1.000 €
Administrative Formalities
Administration @ arrival: in the Organisation pitbox n° 27
Hours

Wednesday morning from 07.00 untill 8.15
Thursday morning from 7.30 untill 8.15

To bring

Identity card
For a BMW test ride, you also have to bring your drivers licence and your credit card (for the caution)
Completed and signed

Show your
Handover your - completed and signed -
Receive

Number for on your bike
Transponder for on your bike (we update the groups every half a day, based on laptimes)
QR-code-sticker for on your helmet
Technical Inspection
The technical inspection will be done by IV RACING.
Everybody is responsible for the good state of his own motorcycle. Pay special attention to the following :

Brakes, tires, oil leaks on crankcase and front fork
Noise : only standard exhausts and replacement / after market exhausts with dB-killer will be authorised!
Equipment : motorcycle boots, leather gloves, good fitted full face helmet, back protector and leather suit (one-piece recommended) are mandatory. If the leather suit is a two-piece, then both pieces must be firmly zipped together.
MANDATORY Briefing
In the pitlane @ Box 27 @ 8.30 AM.
Timetable
Click on the timetable below to download it in .pdf format, and print it!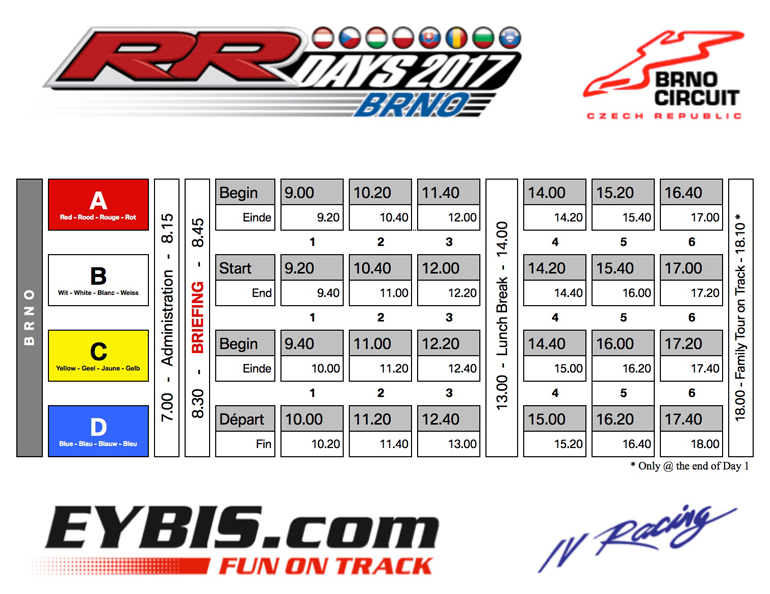 Tireservice - Gas - Pictures
Tireservice
Present. For questions, more info or pre-reservations / orders of tires: call Viktor Noss on + 420 605 298 501.
Gaspump
There's a gasstation in the paddock.
It should be possible to pay with creditcard AND with cash.
Local money is advised!
Pictures
A photographer is present, and thanks to BMW Motorrad, the pictures are free for all participants.
Meals & Drinks
Breakfast, lunch and dinner on day 1, and breakfast and lunch on day 2, are included in your booking.
More info during the morning briefing @ 8.30.
Insurance
TPL Insurance = included
With EYBIS, the Third Party Liability (TPL) insurance is included in your booking price since years.
Some circuits require a license. The only reason for this is that there is a TPL insurance included in it.
Because we provide for all participants - included in the price - such a TPL insurance, a license is not requested during our events and yet you are fully okay.
European Health Insurance Card
(we will not verify this, it 's only for your own comfort / safety, and mainly for events in Spain and Portugal)
VERY IMPORTANT: make sure to have your "European Health Insurance Card" (EHIC) with you. By showing this card, people know - in the domain of health (and injury) insurance - that you're completely covered in your own country and that every other country, that is a member of the European Union, has to give you all the needed care.If you haven't obtained your card from your health care insurance, than :
apply for a card immediately;
if you cannot receive it in time, ask them to e-mail to you a "Provisional replacement certificate for the European Health Insurance Card" (= 1 page, and this can be done immediately);
A list of "Dangerous sports" that are excluded from "urgent medical care abroad". Usually, "racing with car / motorcycle / outboard engines" is listed. But as we do not "race", our activity is not excluded from any treatment. Check if this is also the case with your insurance, and if it is not, just be sure to get an insurance yourself.
EYBIS has not only a very good insurance as an organiser, but insures also - on every event - all participants with a good TPL (= third partie liability) insurance.
If you have a racing license from your national motorcycle council, be sure to bring it with you.
Why should you "like" the EYBIS Facebook page?
Cancellations / Waiting lists
80 % of our events are 1 upto 3 months in advance sold out;
We don't use waiting lists for those who were too late to book, who would like to have a chance to buy a place from someone who cancels his participation;
But - for events which are already fully booked - each cancellation of a place, is immediately communicated on our Facebook page;
This means that everybody who has liked our FB page, will immediately be informed about new free places;
Instant info
Short "instant info" will be communicated only via our Facebook page, as for example:
The practical information from an event which went online minutes ago, or just has been completed;
Access to the paddock is possible from now on (if earlier than planned);
There are 2 cancellations for fully booked event X, in group Y or Z;
Very well known person X just informed us that he / she will be participating @ event Y;
The pictures of event Z are from now on online;
Enz.
Photos and Videos
On our websites, you can find from each event a selection of some photos;
On our Facebook page, we put a lot more images from each event (photos, short - non professional - movies, etc.);
Community
Via our Facebook page, you can easily communicate with other participants, without knowing them before;
You would like to drive together to an event, or you have a place free on your trailer, etc.? It all can be communicated on our Facebook page!
So, go to our Facebook page via the link below, and like it! ;-)
EYBIS on Instagram
Click here to follow us on Instagram!
Questions
If you have questions, do not hesitate to give us a call on + 32 476 691 091.