NV Eybis - Kerkeweg 29- 8490 Snellegem - Belgium
www.eybis.com - info@eybis.com
Tel: +32 476 691 091
---
Portimao 2-3-4 Oct 2015
| | |
| --- | --- |
| Track | Portimao |
| Dates | 02/10/2015 - 04/10/2015 |
| Price | 450 Euro |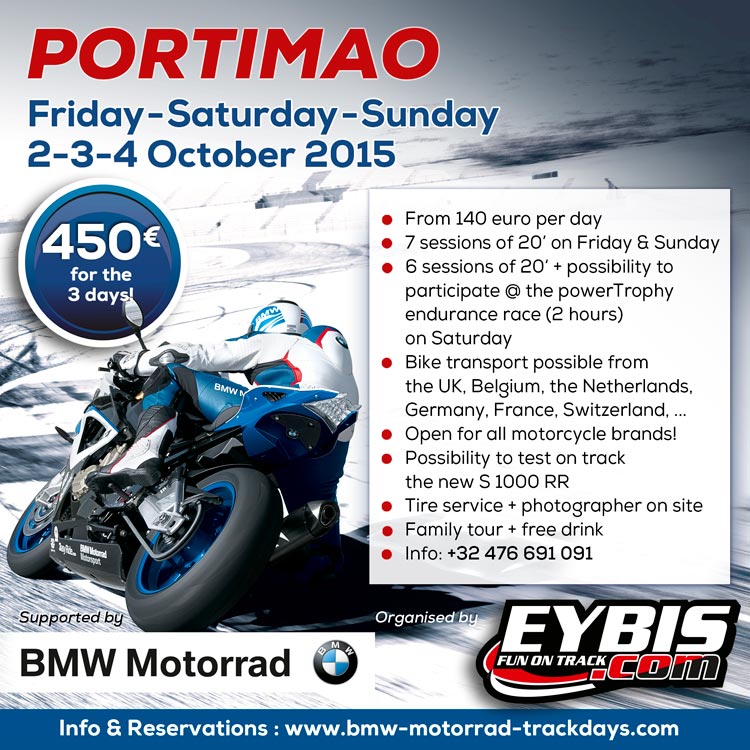 BMW Motorrad Track Days @ PORTIMAO
With Troy CORSER, organised by EYBIS
Fri-Sat-Sun 2-3-4 Oct 2015 (PORTIMAO)
Open for all motorcycle brands!
Exhausts without dB-killers authorised (max. 105 dB)
The practical information on this page can still evolve, so be sure to check it again shortly before the event.

Do you have a question? Send a short e-mail to frank@eybis.com.

Do you have several questions? Don't hesitate to phone us on + 32 476 691 091.
1. Some pictures from some previous events from us @ PORTIMAO
a. 2013
b. 2012
2. Included
7 sessions of 20' free riding on Friday and Sunday
6 sessions of 20' free riding on Saturday
Free place in a pitbox
Possibility to participate in the powerTrophy (= 2-hours endurance race for amateurs) à 40 € per pilot (teams of 2 pilots)

No license required
Enrolments for the race are possible on the spot, in the paddock in Portimao (as long as there are places available), or in advance online here

More info about the races of 2013 and 2012 (results, images, reports) and powerTrophy guidelines: click here

Insurance TPL (third party liability)
Possibility to test the new BMW S 1000 RR, model 2015, on the circuit, à 20 € per test session of 20' (see below)
Free overnight stay possible on the guarded parkinglot near the paddock (has electricity, water and showers)
Photo service
Tire service
Riders gearing rental service
Security:
Experienced organisation
3. Possibility to test the 2015 model BMW S 1000 RR
In 2015, EYBIS organises, for the 4th consecutive year, the BMW Motorrad Track Days.

This year, we 'll be in 6 countries, on 11 different circuits.

These events are open for all motorcycle brands and are supported by the BMW Motorrad factory in Munich.

Procedure

In the price of 20 € are included:

an insurance (your maximum cost in case of a crash = 2.000 €)
tire wear
fuel for 1 session of 20' (in your own group instead of with your own motorcycle)

After the morning briefing, you can register between 9.00 and 10.00 for one test session. Please take with you:

ID card
Drivers licence
Credit card which is able to an "authorisation" of 2.000 € (to block online the caution of 2.000 €) - Inform @ your bank if your card can do this (sometimes the possible amount to "authorise" is less than 2.000 €, in which case we can not let you test a bike)

Together we will decide in which session(s) you 'll test the new BMW S 1000 RR on the circuit, during 20'.

Then you come to the EYBIS pitbox 10' before your test session(s) where a coach will be assigned to you.

After a quick acquaintance, he will explain to you the main functionalities of your test bike.

Next, he will run in front of you for 2 laps.

Then you can ride totally free with your test bike for the rest of the session.

After completing your test session, you will be "welcomed" by your coach who will be very interested in your feedback.
4. Presence and participation of double World Champion SBK Troy CORSER
Introduction

Troy has been active during 20 years in the World Superbike Championship (1992 - 2011) with 6 different motorcycle brands: Yamaha, Ducati, Aprilia, Foggy Petronas, Suzuki and from 2009 untill 2011 with BMW.
Since 2012, he is ambassador for BMW Motorrad Motorsport and participates at most of the BMW Motorrad Track Days, organised by EYBIS, managed by Frank Slabbynck.

Palmarès
World Champion Superbike in 1996 and 2005

377 starts
130 podiums
43 pole positions (still a world record)
33 wins

American Superbike Champion (AMA) in 1994
Australian Superbike Champion in 1993
5. Optional = bike transport
How to order?
During your enrolment, you can click it as an "option"
Price VAT incl. from:

the Netherlands: 395 €
Belgium: 395 €
France: 420 €
Switzerland: 420 €
Italy: TBD

Contact directly our transporter "Santi" at info@santi.nl or + 31 6 51 37 79 49
What can be sent ?
Motorcycle
Second set of wheels
Paddock stand front and rear
Empty jerrycan
Tires
Small tools
Leather suit, helmet, boots, gloves, sports bag
You only have one box per motorcycle available that you can/may fill yourself
Rather a few sports bags than one big box
For examples, click here
Insurance
All motorcycles are - during transport, loading and unloading - correctly insured according to "G13 all risk"
Insured amount = till 10.000 € per motorcycle
Upgrade = possible at 16,75 € per 2.500 €
Some other transporters work with a common "CMR" insurance at 9 € / kg ... so be careful with this !
Crating of the motorcycles
Netherlands - Eindhoven
When
Friday 25 September 2015 from 18.00 untill 19.00
Saturday 26 September 2015 from 10.00 untill 12.00 (for info, tel + 31 6 51 37 79 49)
Where
The address will be mailed to you, once you are enrolled for it
Belgium - Bruges
When
Friday 25 September 2015 from 17.00 untill 19.00
Saturday 26 September 2015 from 9.30 untill 11.30 (for info, or other arrangement, tel + 32 476 691 091)
Where
The address will be mailed to you, once you are enrolled for it
France - Pringy
When
Tuesday 29 September
Loading in agreement. For this, call Santi on + 31 6 51 37 79 49
Where
The address will be mailed to you, once you are enrolled for it
Other pick-up locations possible on demand (call Santi on + 31 6 51 37 79 49)
Switzerland - Genève
When
Loading in agreement. For this, call Santi on + 31 6 51 37 79 49
Where
The address will be mailed to you, once you are enrolled for it
Reservations via e-mail: info@santi.nl
Retrieving of the motorcyles
In the Netherlands

In Belgium

In France
As soon as possible (agreement to make when leaving PORTIMAO)
In Switzerland
6. Airplane
The best - probably - solution is to fly with Ryanair to / from Faro.
7. Rental car
The most simple solution is to fly with Ryanair, and during the online booking procedure, take an option on a rental car from Hertz.

Portugal is the cheapest European country when it comes to rental cars.

We usually book a car from Europcar (they have also an office on the seafront at Portimao.
8. Lodging
a. In the paddock
Is possible, for free and allowed.
b. TIVOLI MARINA PORTIMAO**** - 10 % DISCOUNT on the BAR (Best Available Rate)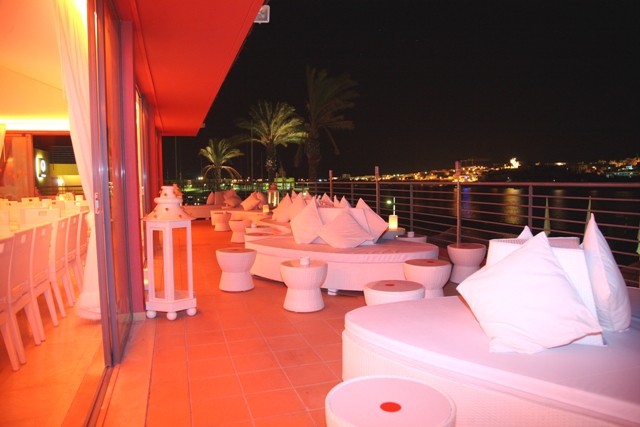 Studio for 2 persons (code = T0)

having

a double bed, or two single beds (of choice)
kitchenette
bathroom
terrace with view on the marina or on the pool of the hotel

included

wifi
breakfast buffet (open from 6.20AM) for 2 persons
access to the fitness room and the open pool
parking
One bedroom appartment for a maximum of 4 persons (code = T1)

having

a room with a double bed, or two single beds (of choice)
livingroom with

kitchenette
sleep accomodation for 2 persons
terrace with view on the marina or on the pool of the hotel

bathroom

included

wifi
breakfast buffet for 4 persons
Access to the fitness room and the open pool
parking
For 22 €, the hotel offers a supper buffet, incl. drinks (water, Tivoli wine, coffee). This can also be taken outside, on a wooden deck with seaview.

How to know the day price + book

Send an e-mail to tilia.leote@tivolihotels.com with :

where you can be contacted for any questions.
No Solo Agua - Beach club at 350 m of our hotel
At 350 m of our hotel - 4' by foot - you find No Solo Agua, a fantastic beach lounge where we spend quite some time every year! Click on the map below for the online routeplanner!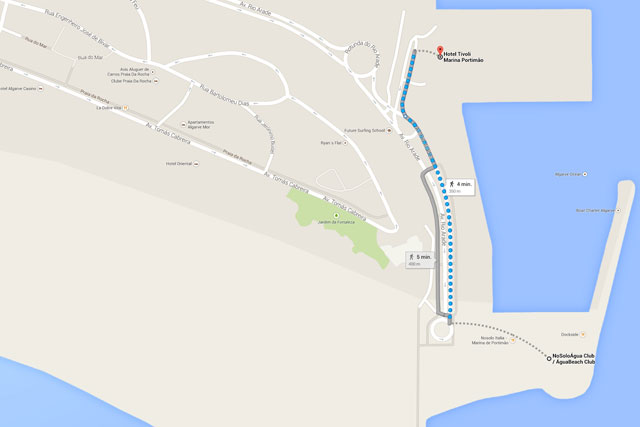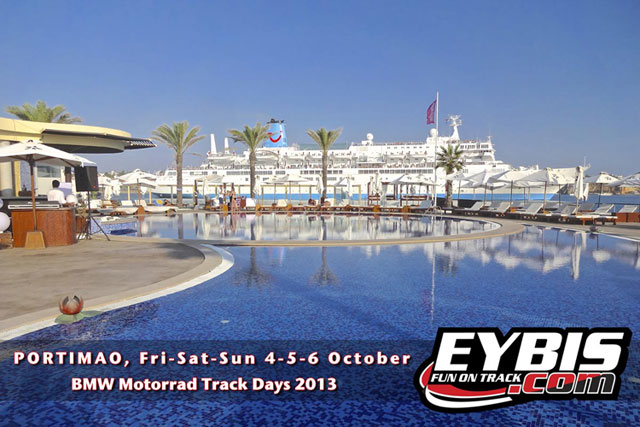 9. To be brought by you
Motorcycle that is technically 100% fit.
Adapted motorcycle outfit, meaning obliged for everyone : leather suit (One-Piece recommended, Two-Pieces authorised), back protector (!), motorcycle boots, motorcycle gloves, fullface helmet
ID-card
For a BMW test ride, you also have to bring your drivers licence and your credit card (for the caution)
Filled in and signed waiver of liability
Good temper, discipline, good-fellowship, well-trained body and clear mind
10. Address - Website of the circuit - Routeplanner - Paddock access
a. Address
37° 13' 19" N

008° 37' 46" W

Sitio do Escampadinho

Mexilhoeira Grande

8500-148 PORTIMAO
b. Website of the circuit
b. Routeplanner
You can find a predefined Routeplanner to the circuit on our "Tracks"-page (click on the red marker of ASSEN, and on the pop-up that appears, click on "To here").
c. Acces hour to the paddock
You can enter the paddock from 18.30, the evening before our event.

If you arrive earlier, you can wait on the parking next to the main entrance.

If ever this timing might change, we will communicate this via the EYBIS.com page on Facebook.

The last day of our event, we have to leave the paddock before 19.00.

The paddock has electricity (bring a blue adaptor), showers and toilets (freely available).
11. Pitboxes - Electricity - Water connections - Showers - Toilets
a. Pitboxes
The boxes are gigantic (7 X 18 meter) and have a toilet, electricity and water.
You can dispose of a spot in a pitbox for free, via our organisation.
This will be arranged on the spot. Reservations in advance are not possible.
If you want your own separate pitbox, it can be rented à 250 € / day.
b. Electricity
Can be found everywhere in the paddock and in the pitboxes. Don't forget to bring the 3-pole "camping"-plugs (the blue ones) with you
c. Water connections
You 'll find water connections in each pitbox and in the paddock
d. Showers
In the paddock, there is a building with showers
e. Toilets
There is a toilet in each pitbox
There are also toilets in the paddock, in the building with the showers
12. Prohibitions
no drilling or knocking of holes in the ground (to fix your tent f.ex.)
no smoking in the boxes, in the pitlane and along the circuit
no unattended children in the pitlane
no animals allowed on the entire domain of the circuit
no "burn-outs", "wheelies" or "stoppies", on penalty of fine (imposed by the circuit) of 1.000 €
13. Meals - Drinks
There is a restaurant in the paddock (next to the pool), that is open every day from 8.00 untill 19.00.

You can drink coffee or something else all day long on the terrace alongside the pool.

A lunch costs between 10 and 15 €.
14. Administrative Formalities
a. Enrolments: in the EYBIS pitbox n°46
Hours

On Friday morning from 7.15 untill 8.15
On Saturday morning from 7.30 untill 8.15
On Sunday morning from 7.40 untill 8.20

To bring

Identity card
For a BMW test ride, you also have to bring your drivers licence and your credit card (for the caution)
Completed and signed

Show your
Handover your - completed and signed -
Receive
b. Geluidscontrole - Technische controle
Noise inspection

Technical inspection

The technical inspection will be done at random.
Everybody is responsible for the good state of his own motorcycle. Pay special attention to the following :

Brakes, tires, oil leaks on crankcase and front fork
Noise : only standard exhausts and replacement / after market exhausts with dB-killer will be authorised!

Equipment : moto boots, leather gloves, good fitted full face helmet, back protector and leather suit (one-piece recommended) are mandatory. If the leather suit is a two-piece, then both pieces must be firmly zipped together.
15. General MANDATORY Briefing in the pitlane @ Box 46 @ 8.30 AM!
16. Timetable
Click on the timetable below to download it in .pdf format, and print it!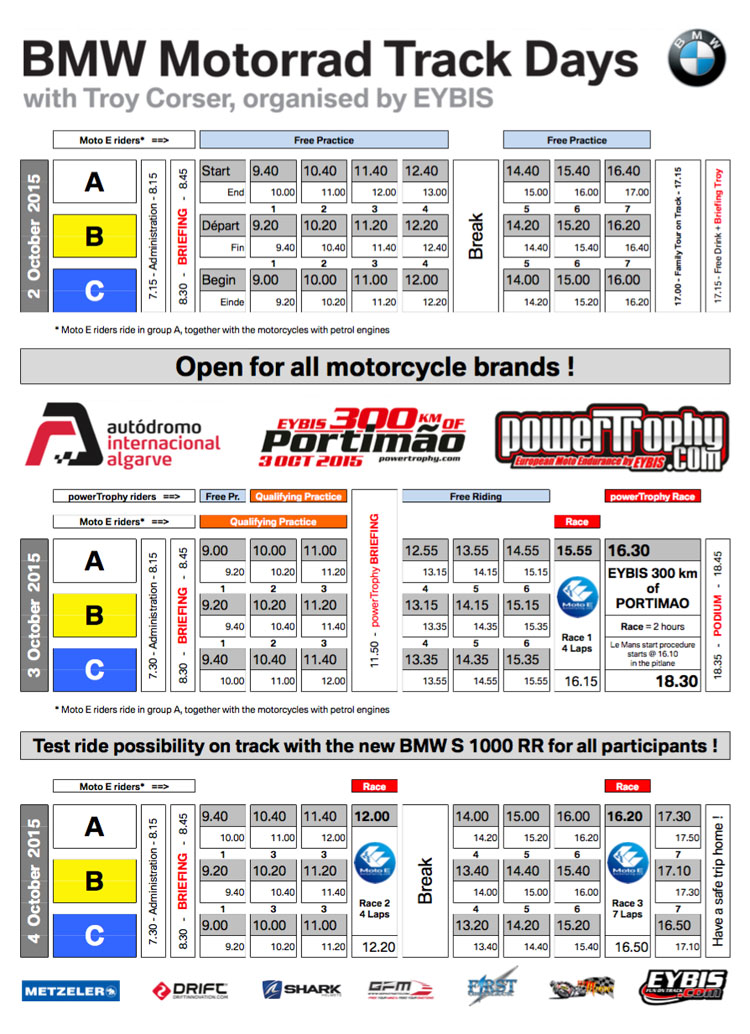 17. Plan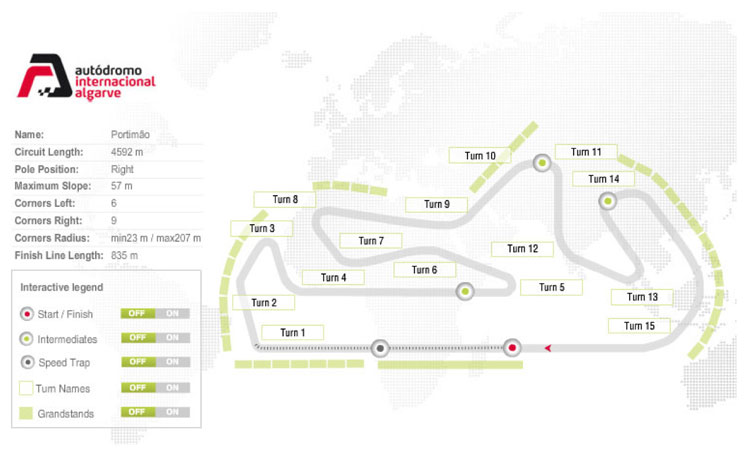 18. Tire service - Gas - Riders gearing - Pictures
There will be a tire service present on both circuits that sells tires and installs and balances them à 10 € per wheel if you remove your wheels and bring them; and 20 € per wheel if you bring your motorcycle.
There is no gasstation in the paddock. So provide one or two jerrycans.
Our partner GO FAST MOTO is present in the paddock during all our 2014 events.

The rental sotck is not unlimited. We kindly ask you to book it in advance.
Rent

You can rent the following products:

Helmets

Racing boots

One piece leather suits

Back protectors

Gloves

All the motorcycle gear can be rented according to your needs, so you can rent only what you exactly need!
The Portuguese top photographer of TUGABIKERS - Miguel Flores - will be present on both events.
19. Insurance
a. TPL Insurance = included

With EYBIS, the Third Party Liability (TPL) insurance is included in your enrolment price since years.
Some circuits require a license. The only reason for this is that there is a TPL insurance included in it.
Because we provide for all participants - included in the price - such a TPL insurance, a license is not requested during our events and yet you are fully okay.

b. European Health Insurance Card

(we will not verify this, it 's only for your own comfort / safety)

VERY IMPORTANT: make sure to have your "European Health Insurance Card" (EHIC) with you. By showing this card, people know - in the domain of health (and injury) insurance - that you're completely covered in your own country and that every other country, that is a member of the European Union, has to give you all the needed care.If you haven't obtained your card from your health care insurance, than :

apply for a card immediately;
if you cannot receive it in time, ask them to e-mail to you a "Provisional replacement certificate for the European Health Insurance Card" (= 1 page, and this can be done immediately);

A list of "Dangerous sports" that are excluded from "urgent medical care abroad". Usually, "racing with car / motorcycle / outboard engines" is listed. But as we do not "race", our activity is not excluded from any treatment. Check if this is also the case with your insurance, and if it is not, just be sure to get an insurance yourself.

EYBIS has not only a very good insurance as an organiser, but insures also - on every event - all participants with a good TPL (= third partie liability) insurance.

If you have a racing license from your national motorcycle council, be sure to bring it with you.
20. Questions
If you have questions, do not hesitate to give us a call on + 32 476 691 091.
21. Why should you "like" our Facebook page?
Cancellations / Waiting lists

80 % of our events are 1 upto 3 months in advance sold out;
We don't use waiting lists for those who were too late to book, who would like to have a chance to buy a place from someone who cancels his participation;
But - for events which are already fully booked - each cancellation of a place, is immediately communicated on our Facebook page;
This means that everybody who has liked our FB page, will immediately be informed about new free places;

Instant info

Short "instant info" will be communicated only via our Facebook page, as for example:

The practical information from an event which went online minutes ago, or just has been completed;
Access to the paddock is possible from now on (if earlier than planned);
There are 2 cancellations for fully booked event X, in group Y or Z;
Very well known person X just informed us that he / she will be participating @ event Y;
The pictures of event Z are from now on online;
Enz.

Photos and Videos

On our websites, you can find from each event a selection of some photos;
On our Facebook page, we put a lot more images from each event (photos, short - non professional - movies, etc.);

Community

Via our Facebook page, you can easily communicate with other participants, without knowing them before;
You would like to drive together to an event, or you have a place free on your trailer, etc.? It all can be communicated on our Facebook page!

So, go to our Facebook page via the link below, and like it! ;-)
---
Copyright © 2010, www.eybis.com. All rechten voorbehouden