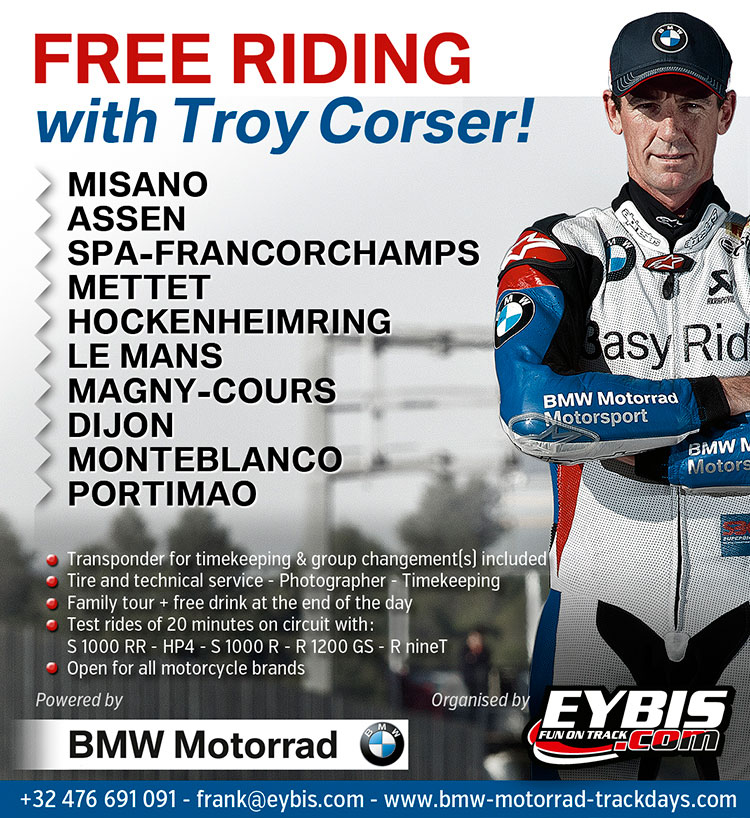 Some pictures of our 2013 season
Click here to view all the pictures @ once @ Flickr!
Some pictures of the 2012 season
The different EYBIS initiatives & websites
Click on a logo to go to the website
EYBIS was founded in October 2004 and organizes quality events for sporting motorcyclists on Grand Prix circuits in 8 European countries. The first event took place on the very idyllic circuit of Mas du Clos, in May 2005.

On the calendar of the EYBIS website, all events can be found where free riding with us on a circuit is possible, regardless of the eventual motorcycle brand which is supporting it.

On all of these events, coaching can be chosen as an option (in the Beginners, Rookies and Advanced group).
Double world champion SUPERBIKE Troy Corser is - as the BMW Motorrad Motorsport ambassador - present at a lot of those events. Troy participates and coaches on the track. In 2014, EYBIS organizes 10 "BMW Motorrad Track Days" events in 7 countries.
In its first year - 2012 - the POWERTROPHY consisted of 5 endurance races, on 5 GP circuits in 5 countries.

The potential was there to become a new European Endurance Championship. But also the motorcycle federations maffia had seen this. As a consequence, there was "decided" to organise - from 2013 on - only one race, the "EYBIS 3 hours of PORTIMAO".
In the begin years of EYBIS, all EYBIS coaches were riding SUZUKI's GSX-R.

In 2008, EYBIS founder Frank Slabbynck developed the idea to create the European Suzuki Days.

In 2009, the first edition was organized on the Nürburgring.

In 2013, the European Suzuki Days @ the Hockenheimring counted not less than 3.000 visitors. In 2014, this event will be organised again.